An Afternoon Drive Through the Monument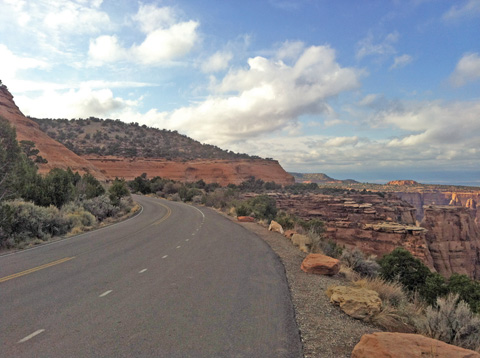 by Deena Schmalz
"One of the comments we get daily is, 'We never knew how spectacular this place was.'" So relates a friendly Park Ranger at the Colorado National Monument. And that's just what my family thought too when we took them to the Monument for the first time a few weeks ago. My parents were here from out-of-state for a short visit and we had a Saturday afternoon with no definite plans, so off we went to Grand Junction.
The Monument rises majestically along the southern edge of the Grand Valley. As you drive through Grand Junction, you may glance at the cliffs above the Redlands and think, "Hmmm, that's nice," and not really have any idea of the natural wonder that is camouflaged among those towering rocks.
The Colorado National Monument rises 2,000 feet above the valley floor and covers 32 square miles of rugged terrain. It was established as a park by President Taft in 1911 and today is managed by the National Park Service. It is a wonderland for outdoor enthusiasts. There's one campground and picnic areas are located in various places throughout the park. There are also miles of hiking trails ranging in difficulty from short and flat to steep trails rated for expert climbers. The steep canyon walls are a big draw for rock climbers as well.
One of the giant stone monoliths that is a favorite of climbers is Independence Monument. This tower in the sky usually has at least one group a day that works their way to the top. In fact, while we were admiring that very spot, we saw movement on the flat top of Independence Monument and only with the help of a zoom lens could we make out the individual climbers celebrating at the summit. It was amazing how tiny they were in comparison to the stone giant.
But for those less hearty souls, like myself, the best part of the Monument is just driving through it along Rim Rock Drive. This 23-mile road takes you along the edge of the canyons and the scenery changes around every curve. The beautiful, sheer canyon walls are striped with colors of red, beige, orange and black that seem to shift with the light after each passing cloud.
But perhaps even more spectacular than the canyons are the unique variety of rock formations that crop up from the valley floor. Just when you think you've seen the best monolith, the next bend in the road provides an even more breathtaking view. There are more than a dozen overlooks and pullouts along Rim Rock Drive where you can get out and walk just a short distance to the canyon's edge.
What I like most about the Monument is that these canyons really allow you to get up-close and personal with them. They're not so vast or so deep as to be overwhelming. Another special treat during spring is all of the wildflowers. I never knew the desert could be so green with blooming plants! If there is an especially wet spring, those tenacious little plants can really put on a showy display, and photo-worthy flowers can be seen all the way through the beginning of June.
But any time of year, this park makes a great day trip. Allow an hour for driving the canyon rim from end to end, and then extra time for taking in the vistas and snapping pictures. The Visitor Center is on the west end of the park and they offer exhibits, books and short films to help you get more acquainted with the area, as well as walks and talks with the Park Rangers. So go ahead and make the drive to the Monument. As my mom said, "It was well worth the trip." For directions, entrance fees and Visitor Center hours, please visit www.nps.gov/colm.
Deena Schmalz moved to Western Colorado as a newlywed from California (she married a Delta County native). Through her adventures of experiencing both the simple aspects and larger wonders of what Western Colorado has to offer, she wrote a series of articles under the column heading of Bloom Where You Are Planted – A Transplants Guide to Exploring the Western Slope. We hope you enjoy her perspective of life in our corner of beautiful Colorado!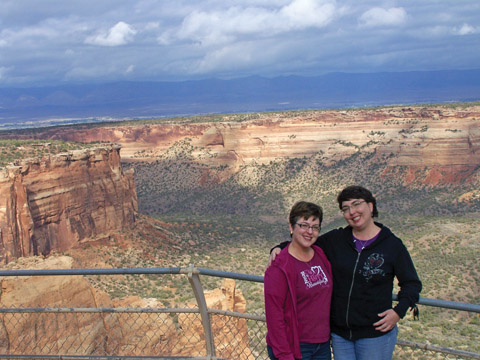 Deena and her sister, Lisa.  Photos courtesy of Deena Schmalz.
Category : Western Colorado Living