For the Birds – Discovering the Joys of Your Own Bird Feeder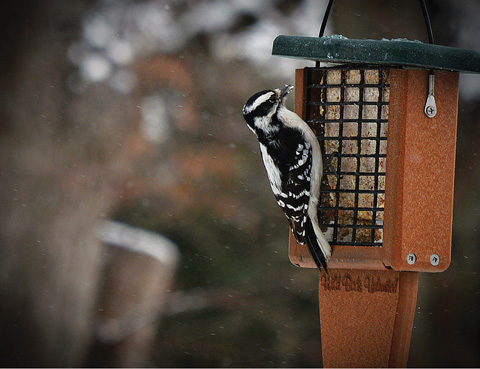 By Deena Schmalz
Several years back, I was having lunch at a friend's house when I discovered the joys of watching all the activity at her birdfeeder. The simple wooden feeder stood on a post just a few feet from her kitchen window. As I sat there as the table, I was thoroughly entertained by the feathered creatures that were also enjoying their noontime meal.
My husband and I discussed getting our own bird feeder, possibly even building one, but the plan never came to fruition. A few years later however, he surprised me with the gift of a cedar bird feeder. He installed a post in the yard outside of our kitchen window and carefully attached the feeder to the top. We filled it with seed and then went inside, sat at our table and waited.
Within 45 minutes, we had our first visitors. I couldn't believe how many birds were in our neighborhood that were looking for an easy and tasty meal. Soon we had several varieties of birds regularly visiting our seed feeder. And it got a lot noisier around our house too, but in a good way. The symphony of avian songs that floated through our windows proved to be more soothing than distracting.
After spending many hours watching my birds while sipping coffee or eating a snack, I decided I wanted to get to know them a little better. I mean, how well could I really know them if I didn't even know their names? So the following spring, off we went to Wild Birds Unlimited in Grand Junction to find a bird identification guide. What an amazing collection of everything a backyard birder could need!
After perusing several books, my husband and I decided on the Birds of Colorado Field Guide by Stan Tekiela. I highly recommend it. It contains full color photographs of 130 species of birds that either live in or migrate through Colorado. It is divided by bird color and is arranged from smallest to largest bird in each color category. It also has migration patterns for each bird on a map of the state as well as interesting facts about the habits of each species.
Now with my guide in hand, I was able to identify all of the birds in my yard. Some are daily visitors, such as the common House Sparrow and Mourning Dove. Others are seasonal visitors, like the Dark-Eyed Juncos that only visit during the cold days of winter. And some birds are just one-day visitors, only stopping to eat and rest on their way to some unknown destination. One of these was the beautiful, strikingly blue Lazuli Bunting. There was no mistaking him because he's on the cover of my guide. I wish he'd come again for another visit; there's always plenty of room at the feeder for one more.
Since I've had my bird guide, I have identified over 24 different species just in my own yard. That's a lot of birds! Some days everybody's in the mood to eat at the same time and there can be up to 60 birds around my feeders. Yes, I said feeders. My collection has now grown to include four seed feeders and two nectar feeders for the little hummers (that's what birders affectionately call hummingbirds).
Watching the antics of my feathered friends is so relaxing and is a great antidote for the stresses of daily life. It's also a very easy and inexpensive hobby to maintain. You can set up a feeder in your own yard for less than $20 and it only takes a few dollars a week to keep it full of wild birdseed. Well, I've come to the end of my space and I haven't even started on the entertaining personalities and habits of all the birds that visit my yard. I guess that will have to wait for another story, another day.
Deena Schmalz moved to Western Colorado as a newlywed from California (she married a Delta County native). Through her adventures of experiencing both the simple aspects and larger wonders of what Western Colorado has to offer, she wrote a series of articles under the column heading of Bloom Where You Are Planted – A Transplants Guide to Exploring the Western Slope. We hope you enjoy her perspective of life in our corner of beautiful Colorado!
Category : Western Colorado Living