GJARA Collects Nearly 4,000 Pounds of Food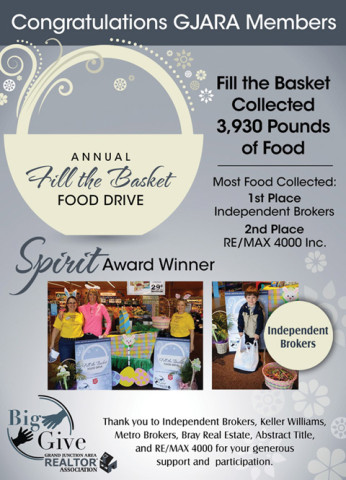 (Grand Junction, CO) – The food has been weighed and the totals are in for the Grand Junction Area REALTOR Association's Fill the Basket Food Drive.   GJARA members collected nearly 4,000 pounds of non-perishable food items benefiting the local Salvation Army.
"This drive is a great bridge for us.   Our next food drive is not until May for the National Association of Letter Carriers Stamp Out Hunger Food Drive. The time between Christmas and late spring is tough for us to keep food on our shelves. We're very blessed with the efforts of GJARA members," says Claudia Jackson, Director of Public Relations, The Salvation Army.
The Fill the Basket Food Drive was held Saturday, March 14th from 10am to 4pm at area grocery stories.   This year GJARA had five member teams contributing to the event. "We're very proud of our teams.   We collected 3,764 pounds of food during that six-hour time period.   That's very impressive," says Lynn Gillespie, President of GJARA.
"We want to help our community. If we can make life a little easier for someone during a time of need than we've accomplished our goal," says Lisa Bikki, GJARA Public Relations Committee Chairwoman.
GJARA members sponsor at least two Big Give events each year, their annual Christmas Toy Drive and Fill the Basket.
For more information, please contact Lisa Bikki at (970) 270-3573.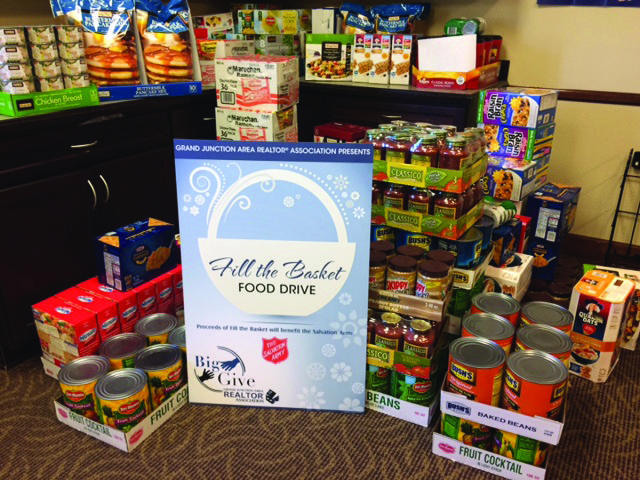 Category : Realtor News